OVMesh Unlimited
If you are planning a production of millions of polycarbonate ID cards, you should consider OVMesh™ Unlimited. Especially if you want more than just a metallic patch but rather prefer to apply more elements, cover more extensive area and use transparent and metallic holograms on the same card.
OVMesh™ Unlimited is a hologram printed directly into the polycarbonate foil and divided into miniature parts. During lamination, melted polycarbonate flows through the hologram and a single homogeneous unit is created. No heteregeneous adhesive is needed.
Our clients especially appreciate the following benefits of OVMesh™ Unlimited.
EASY INTEGRATION INTO A PRODUCTION PROCESS. The holographic layer is simply embedded between other layers for lamination.
OPTIONAL THICKNESS OF THE HOLOGRAPHIC LAYER and its position in the card structure.
TROUBLE-FREE PERSONALISATION.
NO SPECIAL REQUIREMENTS ON LAMINATION CONDITIONS.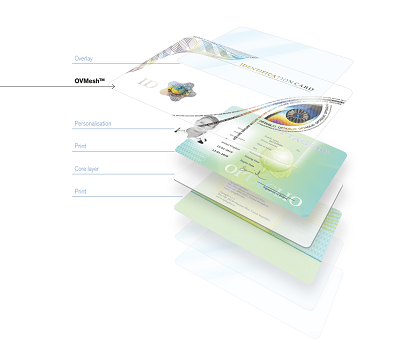 We enable card manufacturers to add a unlimited number of holograms without impact on price.
BUSINESS BENEFITS
- PERFECT DOCUMENT PROTECTION

- inimitable visual effects
- imitation-proof technology for creating holograms
- excellent building in into the card
- VIRTUALLY UNLIMITED GRAPHICAL OPTIONS in terms of number and sort of elements
- HOLOGRAM GLEAM
- Hologram SIZE WITHOUT ANY RESTRICTION UP TO THE ENTIRE CARD COVERAGE without any impact on price

at all.
READ MORE
- OVImage: REVOLUTION IN ANTI-COUNTERFEIT PROTECTION
- ENHANCE YOUR TECHNOLOGICAL ADVANTAGE OVER FALSIFIERS WITH MICROHOLOGRAMS
- OVMesh Smart: SOLUTION FOR TENS OF MILLIONS POLYCARBONATE CARDS
- OVMesh Exclusive: SOLUTION FOR HUNDRED THOUSANDS POLYCARBONATE CARDS
- SPECIAL VISUAL EFFECTS FOR UNIQUE AND UNIMITABLE APPEARANCE OF YOUR CARDS