Patch holograms
A patch hologram can seem like an ordinary item at the first glance. However, there is a big difference between first class products of global leaders and "standard holograms" produced by hundreds of local companies.
OPTAGLIO is a preferred supplier of security holograms for documents that need a very strong anti-counterfeit protection.
OPTAGLIO holograms have been repeatedly awarded by prestigious international prizes.
The best quality, the most robust security
- As the market leader in e-beam lithography, working in resolution up to 2,5 million DPI, we can apply some of our visual effects that cannot be followed by anybody else. These effects have been developed by OPTAGLIO research, some of them have been patented.
- There is no chance to either copy or imitate OPTAGLIO's holograms, among other, because their creation is based on sophisticated mathematic algorithms that cannot be derived from a ready hologram.
- These holograms can be integrated with other security elements, including microholograms.
Very good value for money
- Thanks to massive investments into advanced machinery in past years, our production is very effective in terms of time, energy and especially material such as foils.
- We can make holograms smaller, preserving their full protection capabilities and all visual effects to save space on a document, material, and costs.
Flexible support of fluent production process
We are proud of our reputation of a partner that can meet requirements of different security printing companies to support their specific processes. There are several ways our holograms can be applied.
- Hot stamping in OPTAGLIO.
- OPTAGLIO can also add other security elements or even take responsibility for background printing.
- Delivery of holograms on roles (with or without registration marks) to enable document producers to apply holograms in-house.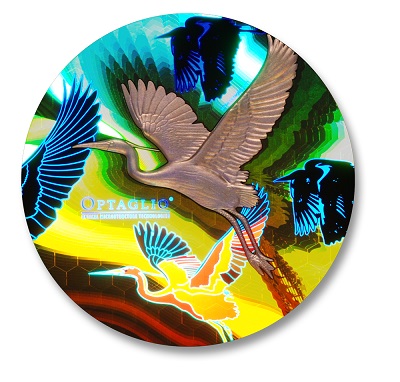 READ MORE