MM Security Substrate Hologram Applicator
Supplementation the base substrate with security elements is the easiest and most effective way of securing documents. OPTAGLIO developed technology enables manufacturers in the security industry to produce various high-security substrates protected even at the microscopic level.
In-house production of substrates secured by holographic security microparticles.
Technology applicable in various segments of security industry:
- Security paper mills
- Security printing houses
- Security labels and foils producers
- Polymer foil production facilities
Technology offers improvement for all currently made security products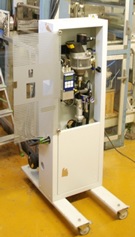 Function description
MM Security Substrate Hologram Applicator is a standalone module (sputtering unit) that can be connected to almost any production machine to implement microparticles during the right phase of the substrate production process. The sputtering unit doses microscopic security elements and transports them into to sputter jets through flexible hoses. Sputtering jets evenly distribute the holographic microparticles above running web substrate and falling particles continually cover the substrate. This application system enables to connect technology to any standard production unit with very small space requirements and with no delay in the production process.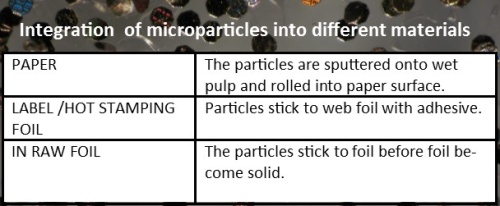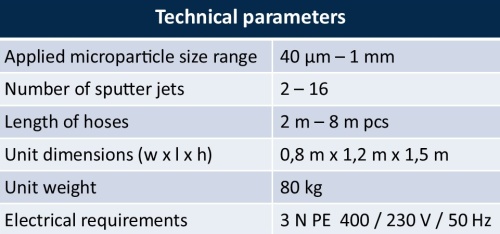 Other important features of MM Security Substrate Hologram Applicator:
- Designed to fit any web production unit.
- Easy to operate and without an impact on the current production.
- Ability to implement the most advanced security elements into the products.
Enhance a protection of your products with microholograms!
- Microscopic holographic security elements patented by OPTAGLIO.
- The most advanced security solution satisfying the highest security requirements for government document/banknotes production.
- Various levels of inspection from document user basic inspection up to forensic methods.