Story of OPTAGLIO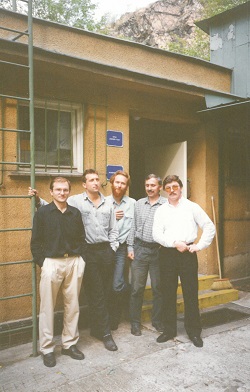 1994 – A group of scientists founds Czech Holography, s.r.o. The new company will focus on security holograms.
1998 – The company has mastered holograms creation with e-beam lithography, as one of the first in the world. Czech Holography thus becomes a market leader and a producer of inimitable security holograms with unique visual effects.
2000 – Czech Holography is acquired by British Optaglio and renamed to OPTAGLIO, s.r.o.
2000 – OPTAGLIO, s.r.o. and Jablonecká bižuterie Jablonex (Jablonec costume jewelry) establish a joint company Metallic Security aimed at microholograms production.
2001 – A new production facilities opened in Řež u Prahy.
2004 – OPTAGLIO, s.r.o. patents microholograms, microscopic metallic particles with a holographic surface.
2006 – OPTAGLIO, s.r.o. enters the global market with optical security devices.
2008 – OPTAGLIO team awarded with Czech Head, the most prestigious Czech prize for scientists and innovative technicians.
2010 – Mass production of OVMesh started. This product enables seamless integration of holograms into a polycarbonate card so that a single heterogeneous unit is created.
Nobody has even made even an attempt to falsify a document protected by OPTAGLIO's security device.
2010 – OPTAGLIO group starts moving research, development, and production from Great Britain to the Czech Republic.
2011 – OPTAGLIO technologies approved for protection of Czech Republic ID cards.
2012 – Mathematician Vladimir Žukov appointed the executive head of OPTAGLIO.
2014 – Detailed holographic map of Moon of on the space of 5x5 cm was introduced by OPTAGLIO at Security Document World in London.
2015 – A new technology center has been built in Lochovice (middle Bohemia) equipped by the most advanced production machinery and laboratory appliances in Europe.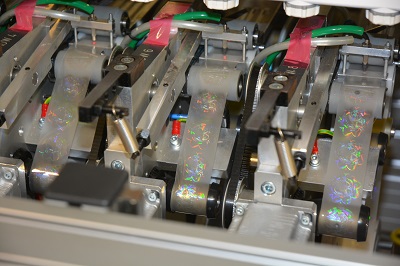 2015 – OPTAGLIO and The Royal Canadian Mint win International Holograms Manufacturers Association award for the best applied decorative product.
2016 – OPTAGLIO delivers security holograms for more than 30 million of passports. The company enters global market with banknote protection devices.
2017 – The company starts offering application machines to enable security printing companies to apply holograms in-house.