PP-ID Card Hologram Applicator
For Smart manufacturers of polycarbonate documents, OPTAGLIO has developed a unique adhesive-free high capacity technology for application of polycarbonate-based holographic security elements onto polycarbonate substrate. The applicator brings significant advantages in managing large government projects for national ID cards, passports, driving licenses etc. as well as considerable cost reductions.
- Effective ADHESIVE-FREE IMPLEMENTATION of polycarbonate-based holographic security elements into polycarbonate documents.
- FULL CONTROL OVER THE ENTIRE PRODUCTION PROCESS with only a very limited dependence on subcontractors.
- SIGNIFICANT DECREASE IN COSTS for a production of huge batches of documents.
- Ability to apply THE MOST ADVANCED ANTI-COUNTERFEIT HOLOGRAPHIC PROTECTION in-house.
Function description:
The PP-ID Card Hologram Applicator consists of two main moving sections intersecting above application table. The automatic sheet feed system working along the lengthwise axis transports polycarbonate sheets from the container onto application table and further into final sheets container. The application heads working along lateral axis pick up and apply holographic security elements onto polycarbonate sheet according to predefined layout (positions on sheets). Application heads consist of suction gripper and polycarbonate welding unit. This architecture enables to grab various type of security elements carried on polycarbonate film fairly and fixate them on polycarbonate sheets by welded fringes. Applied elements are supplied on rolls. Such rolls provide sufficient number for long production periods and do not require a frequent intervention of operating staff.
Input: Polycarbonate sheets and holograms on rolls.
Output: Polycarbonate sheets with security holograms applied on the predefined positions.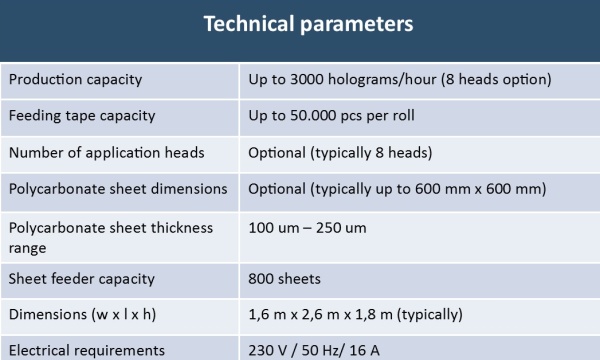 The architecture of PP-ID Card Hologram Applicator results in the following benefits:
- Our adhesive-free welding technology guarantees a seamless quality of laminated documents. The technology is based on lamination properties of polycarbonate itself, no heterogeneous element is added.
- Full control over application process enhances flexibility in managing new production batches. Dependence on an element supplier is mitigated.
- Delivery of applied elements in rolls instead of whole polycarbonate stacks results in a significant saving in transportation costs.
- One operator only required.