MP-ID Card Hologram Applicator
For producers of exclusive cards, OPTAGLIO developed technology and application machine enables producers of polycarbonate documents such as ID cards, driving licenses and passports to integrated metallic security elements into their products in-house. This technology ensures seamless integration into the card without adding any heterogeneous adhesive.
The key benefits for card producers are the following:
- Full freedom to apply SECURITY ELEMENTS ON ANY POSITION of the cards and to make changes easily.
- Full IN-HOUSE CONTROL over the production process.
- Keeping a STANDARD CARD LAMINATION PROCESS.
- COST CUTTING even for small production batches.
- Full CUSTOMIZATION OF THE MACHINE of the machine in line with the customers' existing production portfolio.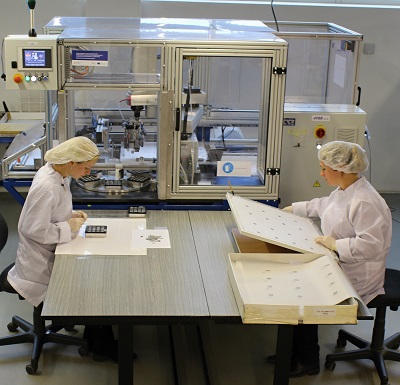 Function description:
The machine comprises four main parts: a sheet feeder, a hologram feeder, an application table and a final sheets container. The application table is equipped with a robotic application head.
The machine put polycarbonate sheets on the application table. Robotic application heads take holograms from the feeders and apply them on the sheet according to the predefined layout. As soon as all holograms are applied to the required positions, the sheet is moved to the final sheets container.
Input: Metallic holograms and polycarbonate sheets.
Output: The polycarbonate sheets with holograms applied at the predefined positions.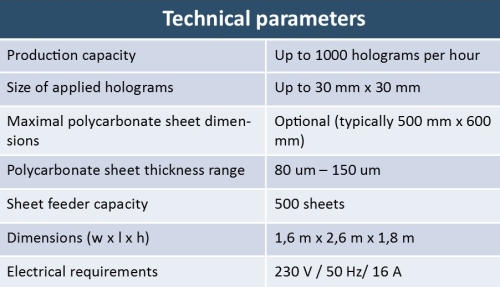 This architecture of MP - ID Card Hologram Applicator results in the following benefits:
- The application machine can be easily reconfigured to another card layout after the previous project is finished. There are almost no limits. It is even possible to change format of the final documents (ID1, ID3 etc.).
- There is no need of the machine supplier intervention during its operation. As soon as initial setting has been finished, in-house operators are fully qualified to perform actions such as
- The applicator requires initial setting done by technologist only when new project start. The operating of the machine itself is done by one operator who can satisfy all necessary actions like material feeding, quality control, evidence, packing of final sheets etc.
- No heterogeneous adhesive gets into the final product (card). Security elements applied are attached with a special liquid which disappears before subsequent production processes.
- The adhesion of polycarbonate layers in the final product is based on polycarbonate lamination properties only.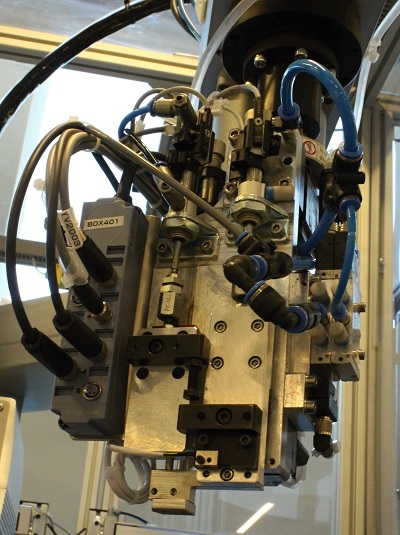 Introduce OPTAGLIO OVMesh Exclusive technology into your documents with MP-ID Card Hologram Applicator!
- The most advanced holographic anti-counterfeit features
- High brightness metallic hologram
- Ultimate coalescence with polycarbonate document
- High durability and aging resistance