Holographic stripes
Security holograms are often applied to protect consumer products, tickets, permits etc. The price thus often becomes an important issue while it is still critical to ensure uncompromised security.
OPTAGLIO brings a method for decreasing hologram space and costs while preserving key benefits such as inimitability and genuineness/counterfeit discrimination. This method is based on immensely exact cutting holographic foils. Narrow stripes are either delivered to the document producer or directly applied on paper, plastic cards etc.
"OPTAGLIO enables even clients with limited budget to apply first-class technologies typical for banknote protection."
- THIN SLITTING – a very narrow stripe up to one millimeter can be taken from
a holographic foil.
- PRECISE SLITTING IN REGISTER – the stripe can by so positioned that entire holographic motive is centered - wider possibilities and no limitations in design.
- ADDING MORE SECURITY ELEMENTS, such as printing with a various security inks or demetallization features, is possible as well.
- ADDING MICROHOLOGRAMS to enhance a level of anti-counterfeit protection.
The stripes can be delivered for an in-house application.
- ARBITRARY APPLICATION MARKS matching customers application technology
- FLEXIBILITY IN TERMS OF SPOOLS SELECTION AND WAY OF WINDING. We can meet almost any client requirement in terms winding, including

- Reel winding.
- Bobbin winding.
- Special windings with flat flange spool.
- Special winding with tapered flange spool.
- Inner diameters: one inch, three inches, 16 mm, 22 mm and possible others.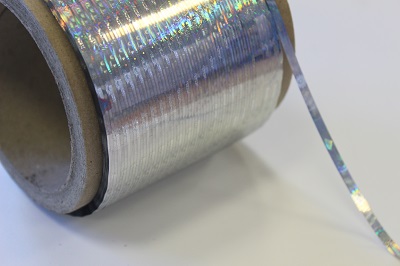 Support of smooth document production process
- OPTAGLIO can apply holographic stripes on paper documents using hot stamping technology.
- With OPTAGLIO technology, stripes up to 1 mm width can be applied on paper or plastic substrates.
- OPTAGLIO extends options available to document producers without such precise technology.
READ MORE
- STAMPS AND SECURITIES PROTECTION
- SECURITY AND BACKGROUND PRINTING