Holographic Seals
There are many situation when users need to be assured that an envelope has not been unstick, a box has not been opened, a code has not been read. To sum up, to add a seal or a plug.
The sticker used for this purpose must meet the following criteria:
- Sufficient durability
- Inimitability
- Easy verifiability of genuineness and intactness
- Removal and reusing absolutely impossible
Holographic adhesive label is the best available solution, provided that all listed requirements are met. It is exactly what OPTAGLIO's self-destructive stickers ensure. After sticking to the surface of the product protected and carrier foil removal, only ultrathin layer stays. Any attempt for its removal results in its destruction and creating an evidence about the attack.
ULTIMATED PROTECTION. OPTAGLIO's holograms are fully secured against all kinds of counterfeiting attacks. Read more…
HIGH OPTICAL QUALITY AND EXTENSIVE DESIGN OPTIONS. In addition to protection against unauthorized opening, a holographic sticker can be an interesting marketing tool. Read more…
BOTH OPAQUE AND TRANSPARENT STICKERS. Do you need to protect an area against reading? Do you need to make it visible and protect against changes? OPTAGLIO offers solutions for any situation. Transparent and nontransparent spaces can be combined on the same sticker.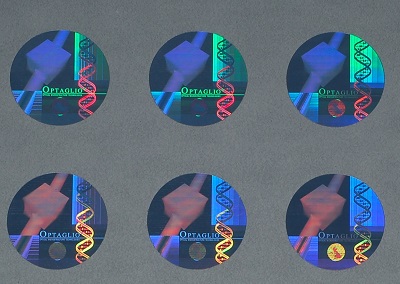 READ MORE
- ENHANCE YOUR TECHNOLOGICAL ADVANTAGE OVER FALSIFIERS WITH MICROHOLOGRAMS
- COMPLETE PRODUCTION OF A PAPER-BASED DOCUMENT