H-PRO™ Overlay for papers based documents
Personalization data, such as a holder name and expiration date, is usually written into the paper document during the latest phase of its production. It is critical to protect this information against non-authorized changes. Overlaying with a security hologram is a convenient solution, provided that the hologram is transparent, easily recognizable and non-removable.
Optaglio's H-PRO meets all of these requirements. Ultrathin foil with holograms on its inner side is printable by office laser printers. For easy transport and handling, this ultrathin foil is connected to PET carrier layer. As soon as it is attached to the document, the PET layer is removed and holographic foils is self-supporting no longer. Any attempt to change it results in its disruption. However, it continues to be abrasion resistant.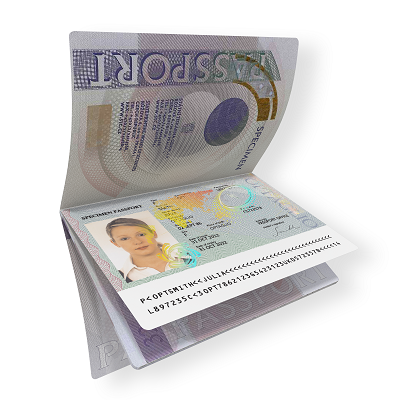 H-PRO application brings the following benefits:
CAN BE USED IN ANY OFFICE. A document issuer doesn't need more than an office printer and a laminating machine. There is no need to install any special equipment. The process is user friendly, an officer can simply put cover foil on the paper page and feed the document into the laminating machine.
CREATING A RESISTANT DOCUMENT. H-PRO™ Overlay bring benefits similar to lamination, such as longer durability and enhanced resistance against mechanical stress, chemical influences and humidity.
STRONG ANTI-COUNTERFEIT PROTECTION. Contrary to usual cover foils, Optaglio's H-PRO overlay cannot be removed because it is not self-supporting. Holograms applied cannot be imitated because they were created through e-beam lithography.
BROAD GRAPHICAL OPTIONS. Both transparent and metallic holograms can be applied. All advanced visual effects developed by Optaglio are available through H-Pro™.
READ MORE
- BACKGROUND PRINTING AND SECURITY PRINTING
- SOLUTIONS FOR PAPER-BASED DOCUMENTS
- STAMPS AND SECURITIES PROTECTION