Banknote protection
A full certainty that people accept and keep really genuine currency is critical for smooth operation of any national economy. Nevertheless, the money has always been the key target for falsifiers.
Therefore, the banknote producers need to:
- Ensure that their banknotes cannot be forged even by the most advanced and sophisticated criminals.
- Apply security element enabling ordinary users without special equipment to by absolutely sure about banknotes genuineness.
- Produce banknotes, which will demonstrate optical quality, brightness, clear colors, and technology leadership.
- Ensure ultimate anti-counterfeit protection.
OPTAGLIO is the right partner for those who intent on meeting these requirements. For more than 20 years, we have helped banks and security printers to guarantee full certainty through keeping them sufficiently ahead of potential forgers.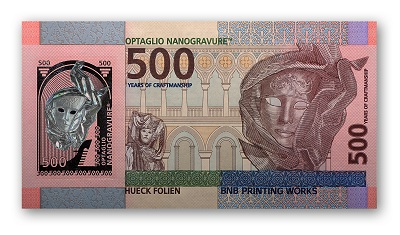 We help to produce secure banknotes with a brilliant appearance.
READ MORE
OVImage: REVOLUTION IN ANTI-COUNTERFEIT PROTECTION
MICROHOLOGRAMS FOR COUNTERFEIT PROOF BANKNOTES
HOLOGRAPHIC STRIPES FOR FULL SECURITY AT A FRACTION OF COSTS
SECURITY PRINTING – SUPPORT FOR FORENSIC INVESTIGATION AND MACHINE READING
SPECIAL VISUAL EFFECTS FOR BEAUTIFUL AND INTERESTING BANKNOTES