µH Layer microholograms
Microholograms are extremely small metallic particles (from 40 micrometers), which look like dots grains of metallic dust to a naked eye. Their application further enhance anti-counterfeit protection of polycarbonate cards. However, it may be challenging for card producers to integrate microholograms into their cards without any complications to production process.
OPTAGLIO offers an elegant solution. It delivers a polycarbonate layer, with microholograms scattered inside. The layer is simple laminated into the card during the production to create a single homogeneous unit. The layer can also include other security elements, such as OVMesh™ and security print.
There is no need to make a choice between microholograms and "normal size" holograms. The security layer can contain both.
The customer often appreciate the following features and benefits.
ENTIRE CARD COVERAGE with microholograms, transparent holograms, metallic holograms, holographic stripes, security inks applications etc.
OPTIONAL THICKNESS OF THE LAYER and its position within card architecture.
NO SPECIAL REQUIREMENTS ON LAMINATION CONDITIONS. The holograms are sufficiently resistant against heat, pressure and other influences.
CARD READY FOR PERSONALISATION. The layer with microholograms can be made from writable polycarbonate. It is also possible to write into deeper layers through the holographic layer.
OPTIONAL LEVEL OF INSPECTION.
- Basic control by a naked eye (microhologram presence)
- Brief intuitive supervision with a magnifier (reading letters etched, presence of holographic surface)
- Detailed supervision with a microscope (viewing holograms with all visual effects),
- Forensic control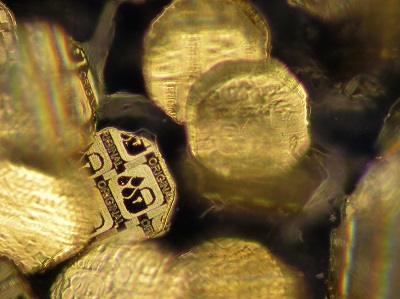 READ MORE
- DESCRIPTION OF MICROHOLOGRAMS
- APPLY MICROHOLOGRAMS WHILE SAVING COSTS AND SPACE WITH µH OVERLAY
- USE OVMesh UNLIMITED. ADD UNLIMITED NUMBER OF HOLOGRAMS WITHOUT IMPACT ON PRICE
- CREATE AND REGISTER HOLOGRAPHIC FINGERPRINTS OF YOUR DOCUMENTS